Ensuring janitorial staff safety
January 29, 2020
Posted by:

Dhivya Srinivasan

Category:

News
Janitorial safety must be a priority in your facility. Not only is it the management's responsibility to keep your employees safe, but the janitorial staff's impact on everyday cleanliness is high for a facility. The responsibilities of a janitor include cleaning and keeping the workspace comfortable and staying away from hazardous, unpleasant and unclean situations by disinfecting objects and surfaces, repair lighting fixtures and perform maintenance on the environmental systems.
Why is this necessary? 
The cleaning industry requires skills to maintain a facility's cleanliness and safety. There is a high chance for the cleaning staff to deal with wet and slippery surfaces while performing cleaning duties like mopping, sweeping floors, etc. They also perform maintenance duties in forms of fixing lights and other types of equipment. This could lead to some serious slips and trips that can hamper their safety. 
Even if the chemicals are certified green and eco-friendly, the staff needs proper training on how to handle them. Proper gear like masks, gloves and other supplements must be mandatorily provided to ensure safety. 
Train your staff
Effective training is essential for the staff. Workers in every facility face a variety of both physical and environmental hazards. While each case may be different, every facility janitorial staff requires customized training for safety and health purposes. 
An effective training and safety program includes training physically with practical examples, referential handbooks and field and classroom training. Janitorial safety training should begin on day one with the orientation and continue throughout their tenure with your facility.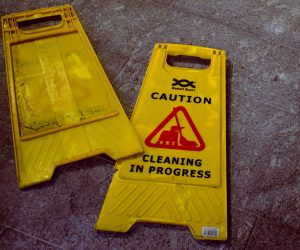 Safely handling chemicals
Cleaners handle various chemicals during their day to day responsibilities and they should be given proper safety training on how to handle them. Cleaning up spills safely is one of the key lessons that has to be talked about. The staff has to be able to identify the kind of chemical they are using, how to use them safely and be able to read the labels on the container. 
Regardless of the number of safety measures, some cleaning products contain chemicals that can cause burns, eye irritations or skin irritations. The facility has to ensure that the staff wears personal protective equipment like gloves, masks, and goggles while cleaning. Most of the products will have specific instructions on how to clean a spill. The staff should also be trained to feel comfortable to reach out to the supervisor if they have any concerns regarding such safety factors. 
What are some of the ways in which a facility manager can ensure janitorial safety? 
Monitor employees' usage of chemicals and other cleaning equipments. Ensure that the employee is qualified to use the equipment. 

Imbibe good housekeeping practices among the staff. Not only the cleaning staff but all the employees in the facility. Examples, like putting away peels and not wetting the restroom floors, can help in long term safety. 

Keeping chemicals and other cleaning tools away from light and heat sources is mandatory.

Staff should be asked to put out warning and caution signs when an accident can happen. While mopping, scrubbing and even for wet floors, the staff should be trained to place signs or cones and not just block the way with mops and other cleaning tools. 

Physical injuries can be avoided by educating the staff on how to lift properly, how to climb ladders and even pinpointing the danger areas of our facility. This will ensure extra care from the staff. Assign a buddy for the cleaning staff when they perform their duties in a risky zone. 

Not only should the staff be trained on how to handle potential risks, but they should also be trained to effectively report to the supervisor to avoid any further damages.

 
An unwise move – Cutting corners
The facility should focus on investing in high-quality cleaning tools that can benefit them in long terms. Buying cheaper solutions with high chemical solutions can affect your staff's health. Aromatic hydrocarbons present in degreasers, deodorizers, and pesticides are known carcinogens, causing cancer in animals and people. This move can have a myriad of consequences like physical injuries, long term lawsuits and even impacting other employees in the facility.