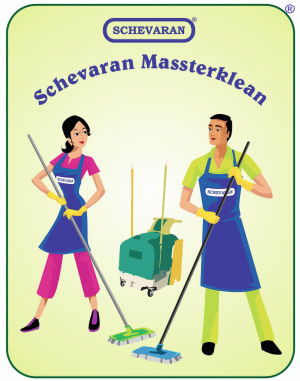 Q : What is the current trend in the cleaning of large modern premises?
A: The cost of labour in India being relatively low so far, has led to a large deployment of manpower in the form of Janitors to clean and maintain large premises irrespective of whether they are office buildings, malls or hospitals. With a low emphasis on training, there are very few innovations and they are comfortable in in still using old cleaning methods and materials which are very inefficient. There is a lot of cross contamination happening on day to day basis. Cleanliness is understood as the absence of visible dirt.
Q: What needs to be different?
A: We have to move from manpower-based solutions to Mechanization and to Next Generation cleaning with microfibers. This is the only way we can move to the next level – the Cleanliness of the visible and managing hygiene of the unseen.
Hygiene is measurable and quantifiable and can be substantiated scientifically. With companies giving a lot of importance to "Wellness In Work Place" this is the way forward.
Microfibers clean better and more efficiently than the current solutions which are basically cotton mops and cloths. By using microfiber, they can reduce chemical and water consumption on day to day basis.
Mechanization will upgrade cleaning services and also increase the efficiency of the task performed. With specialized cleaning machines for every activity including touchless washroom cleaning technology has evolved and needs to be adopted aggressively.
Washroom and kitchen cleaning have always been a back breaking job which would get neglected or cleaned inefficiently and are the source of maximum complaints on a regular basis. To mitigate this, we need to use smart machines rather than deploying excess labour which would costlier in the long run.
Q: What are the key components of MassterKlean Next-Gen Cleaning™?
1.  Convenience of Single Window Procurement for the client– Chemical, Consumables, Tools & Tackles and Machineries (Optional) .
2.  Reduced environmental Impact – Reduction in water consumption & Chemicals through the use of Super Concentrates.
3.  Improve Safety, Health – Achieve workplace ergonomics and implementation of PPE.
4.  Optimise work force
5.  Improve Economics
Q: How is this intensive process being supported by Schevaran?
A: Schevaran has formed a logistic hub in its factory premises which holds large stock of Chemical, Consumables, Tools and machines and its spare parts. Every month hundreds of orders are processed and dispatched to various locations to meet the individual deadlines. Monthly orders are collected from various parts of the country at predetermined dates and are executed accordingly.
Machine downtime are reported and actioned within 48 hrs. The problem is understood over the telephone with the help of Schevaran representative on site where trouble shooting exercise is carried out. This helps the technical team to analyse what is wrong with the machines. A technician is then sent to the site with the appropriate spares and the machine is repaired.
Q: Why has a chemical cleaner manufacturer like Schevaran chosen to get into this trend
A: Schevaran wanted to diversify responsibly from being a manufacturer of Chemicals to support the cleaning industry in all categories and to ensure we make a difference to the environment. While we produce Eco friendly and Bio Degradable chemicals. We felt we could further contribute to the industry by introducing all round cleaning capabilities.
The MassterKlean Next-Gen Cleaning™ Program was developed by Schevaran Laboratories to enhance and scale up cleaning to the next level. The concept was developed initially for Integrated Facility Management Service Providers as a one stop solution for an umbrella of services including cleaning machines in partnership with Swiss manufacturer "Cleanfix" and Green Seal cleaning chemicals made under licence from Rochester Midland Corporation, USA.
Impact of MassterKlean Next-Gen Cleaning™ wherever it is implemented in full
Manual Washroom Cleaning – It's Hard and Demoralizing Task!
Manual cleaning is more of hard work with less effective results, since scrubbing and reaching all surfaces are not possible at all times, creating unsightly conditions and the perfect breeding ground for odor-causing bacteria and Microbial activity. It's always very demoralizing for a person to clean washrooms so it's always a big task for any facility to source manpower
The launch of WonderJoe for upkeep of rest room cleaning will tremendously improve the quality of rest room cleaning.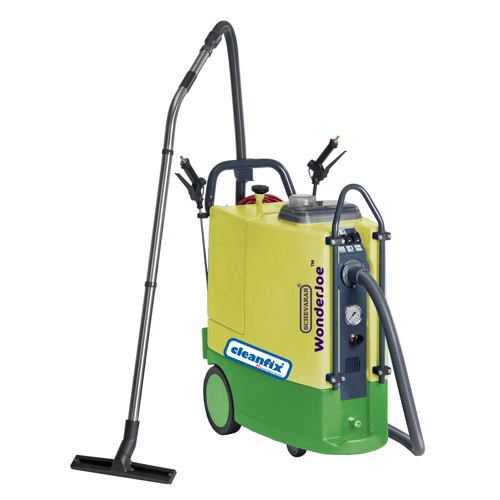 Salient Features 
Easy and simple to operate, Faster than manual cleaning
Reduces water consumption and Manpower
Reaches all surfaces every day.
Swiss quality machine with Desi touch –Rugged, Durable and Precise or Swift
Patented shape of the cleaning handle(wand)
Good Maneuverability
Increases the morale of Janitors
Swacha Maiya Jaiete
Where can it be used
Schools and universities
Hospitals
Travel plaza
Office buildings
Restaurants
Theme parks
Malls & Supermarkets
Any place where quicker and cleaner solutions are required.